Don't ask for my consent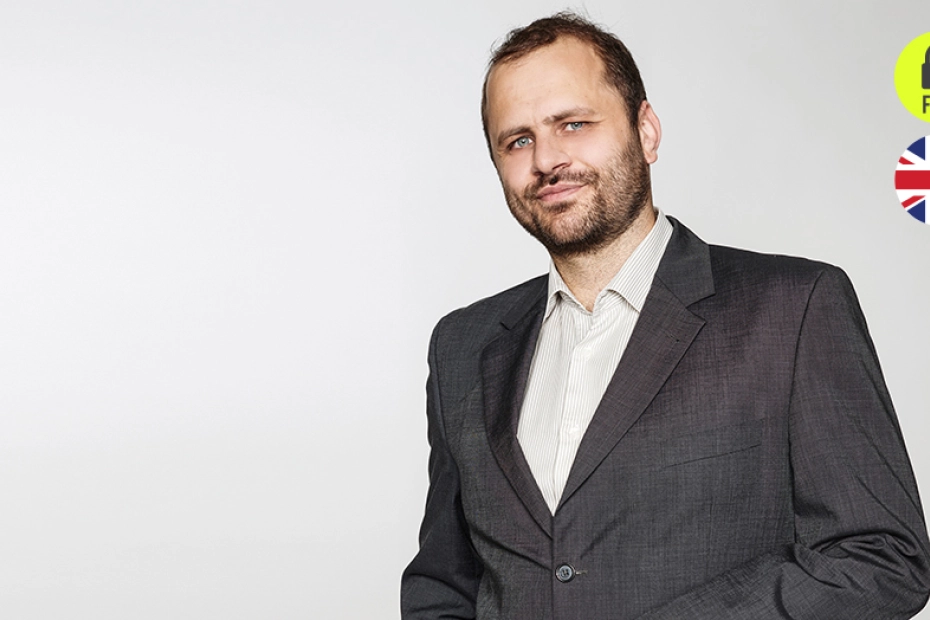 Bolesław Drapella. Fot. Wojciech Gardaś
70
I adhere to the principle that it's better to ask for forgiveness than consent – says Bolesław Drapella, an innovator and pioneer in mobile solutions for the real estate industry in Poland, the founder and former CEO of the Morizon Group, and owner of the
I adhere to the principle that it's better to ask for forgiveness than consent – says Bolesław Drapella, an innovator and pioneer in mobile solutions for the real estate industry in Poland, the founder and former CEO of the Morizon Group, and owner of the online service RoomAuction.com.
He enjoys challenges, and his professional life has been a continuing success story. He treats the few failures he has had as valuable lessons. To start up his own first online service, Room-Auction.com, he left Poland for two years and found employment in a hotel in the UK, getting to know the hotel industry from the bottom up. He began the service for booking hotel rooms back in 2003. But he "drifted" in the virtual world for a decade before taking off with a new formula. Along the way, Drapella set up other web projects, mainly on the borderline between e-commerce and the real estate industry, including Morizon. He currently runs three businesses – the above mentioned RoomAuction.com, Recamp and AirHelp. The latter is real dynamite.
From zero to the stock exchange
A good example of Drapella's effectiveness in developing businesses is Morizon. When he took over the company six years ago, it had three employees, and revenues amounting to just 4 thousand zloties a month. When in the autumn of 2014, he handed the company over to his successors, it employed 70 people, revenues had reached 14 million zloties a year, and profits were 2.5 million zloties. It had become one of Poland's top three intermediaries in online sales of real estate. – This has been my biggest success and the biggest challenge in my professional career – admits Drapella.
He recalls that at first it was not easy to break into this market, but pretty soon customers began to support the company so that it was able to buy up other similar websites and create a group. This consolidation of the highly fragmented online property market proved to be the key to success. This was possible thanks to three rounds of financing. The last cash injection of 6 million zloties allowed the company to take over a competitor five times larger. Currently Morizon is preparing to offer shares on the main floor of the Warsaw Stock Exchange with NewConnect. Drapella continues to support the company, but is no longer involved in its operations.
He knows the competition and tries to maintain good relations. He does so by means of the smallest of his businesses – Recamp. Twice a year he organizes meetings of real estate industry employees. Not only developers and brokers, but also ISPs (Internet Service Providers). Some 50 people attended the first conference, while 450 are expected to attend the upcoming sixth meeting – This is the biggest event in the Polish real estate industry – he says. In addition, local barcamp meetings are held in many cities. In the evening, after work, we meet in a pub, where one or two lectures are given, followed by networking. We build cooperation. Our goal is to encourage healthy industry standards, which are good for both customers and the brokers.
Employ people with better knowledge than your own
– For me, a company is a team. It's people that create it. Basing it on a single pillar in the form of a CEO, and in addition, one with a very strong personality, usually doesn't work. He will make mistakes that nobody will have the nerve to point out to him – explains Drapella, and stresses that he doesn't employ people who don't like challenges and are afraid to make decisions. – Instead of building the company up, contributing to it, they wait for what the CEO will say. And that slows development. In this context, I adhere to the principle that it's better to ask for forgiveness than consent.
This kind of management gets employees involved, allowing them to feel fulfilled, and it also increases flexibility and speed of operations. This is something Drapella missed when he worked on developing the service Gratka.pl, which he joined in 2007, and where, among other things, he worked on a project closely connected with e-commerce, which proved a flop. – There's nothing wrong with a "flop" – he claims. – That's what start-ups are all about, trying to look for new ways all the time. What is wrong lies elsewhere, in too elaborate and cumbersome a company structure, which does not allow for quick decisions about adapting a project or giving up on it.
He admits that the "gratka" stores didn't make much sense, and that mostly this was down to his own erroneous assumptions. But then, the only person who makes no mistakes is the one who does nothing. – Unfortunately, knowledge only comes with experience, with the implementation of new projects – he says.
He employs those with more know-how than himself. – I expect them to tell me how to run a project, especially in the areas in which they are involved – he explains and adds that he is most impressed by the work culture seen in international start-ups – for him, the greatest value in business is a willingness to cooperate.
The terror of the airlines
This work culture is to be found in AirHelp, the largest of the businesses run by Drapella. It employs 200 people in 20 countries, with an operations centre in Gdansk. This business venture was established three years ago, and is already the world's largest company dedicated to recovering compensation from the airlines on behalf of passengers – due for instance to cancelled or delayed flights or refused boarding of aircraft. AirHelp has had two rounds of financing. It has received support amounting to 9 million dollars from the American fund Y Combinator.
So far it has handled approximately 450 thousand customers. The basis of its activities are the EU rules governing the rights and obligations of airlines to passengers. The market is enormous, because airlines fail to pay approximately $ 3.2 billion of due compensation a year.
– Although the rules go back as far as 2004, no one ever before managed to form a business out of this – says Drapella. Since entering the market, AirHelp has continually grown by several percent a month. The key to success is a no win – no fee business model, in other words the earning of commission from compensation actually received, cooperation with the Internet services selling tickets and a powerful database on weather and flights. – The commission is 25 percent of the amount obtained if the customer contacts himself, or 35 per cent, if a case comes to us through our partner as an intermediary – specifies Drapella.
He also explains that if someone is trying to obtain compensation independently, he will find himself at a disadvantage. Airlines use every excuse, even bad weather. – But we have access to the data and know not only what the weather was like at a given time at a particular airport, but also what effect it had on aircraft.
At AirHelp they know everything about any flight that took place in the last four years. When and where the plane landed, in what conditions, and whether the delay or cancellation was justified. They try to have the matter settled amicably, but will ultimately go to court if necessary. Their rate of effectiveness is 98 percent.
They cooperate with more than 300 airlines. – Most often the airlines themselves ask for our opinion, whether in a given case compensation should be due, because they do not know the rules as well as us. They no longer treat us as a necessary evil and we are beginning to be seen as helping to maintain good customer relations – says Drapella. – Due to marketing and customer acquisition costs, it's best to help the customer as soon as possible, to settle the matter, rather than drag it through the courts, because that just spoils the image of the airline company.
Every month startup is breaking records for cases handled and paid up. – We do a lot of recruiting; we are currently understaffed by approximately 100 people. In the last six months we hired 80 new staff. Every week the team is joined by several new people.
Auctioning overnight accommodation
Although AirHelp is Drapella's largest business, the media devotes more attention to RoomAuction.com. – This was one of my first online projects, which indeed took me some time to get going. It was before starting this that he worked for two years in the British hotel industry. When the service began operations, he treated it most of the time as a side project. He devoted himself to it entirely for several months after returning from the UK, and only again, 11 years later in 2014, when he could breathe a little easier after leaving Morizon. Then the service was launched in a fresh form. It currently cooperates with 60 thousand hotels in 170 countries.
The idea is that the client, seeing the price, suggests how much he wants to pay for a hotel room and its owner agrees to that offer or rejects it. Most often he accepts, because he realizes that he will not be able to rent all his rooms without discounts. Other potential guests do not know what price was negotiated. – Later, it usually turns out that the money guests saved on renting the rooms is spent by them at the hotel bar or in its restaurant. The hotelier incurs no loss, especially since the profit margins on accommodation charges are very high, in contrast to those for airline tickets for example – explains Drapella. RoomAuction.com scoops a 20 percent commission on each such transaction.
After years of drifting, this project needed a new business strategy. After all, another company, Booking.com appeared on and conquered the market. – We had to adapt to their presence in some way. They spend some $4.5 billion annually on Google adverts – says Drapella, who operates differently: he tries to recruit users through an ambassadorial program of blogger-travellers. He sends them to hotels cooperating with the service, and on their blogs and social media, these visitors describe their stay, just as they would a town they had visited.
– That's how we build brand awareness and reach new users. The hoteliers, seeing the increasing value of visits by bloggers, provide them overnight accommodation for free. Our marketing strategy brings in revenue and ceases to be a cost. Such marketing is worth scaling up.
Drapella is still the 100 percent owner of the firm, but is no longer involved in its operations. He employs five people that he trusts fully. He meets with them twice a month to discuss strategic plans... and the rest they decide themselves.
--------
Bolesław Drapella
Founder and owner of the RoomAuction.com service, vice president for development at AirHelp.
Founder and former CEO of the Morizon Group.
Drapella has worked for Polska Press (Development Director), Engine (project manager), BMW, Dr. Oetker, Americanos, Mentos and Multimedia Polska.
He began his career as a photojournalist for the papers Dziennik Bałtycki (The Baltic Journal) and Wieczór Wybrzeża (The Evening Coast).
He graduated in marketing from the University of Gdansk.
His passions include skiing, water sports, mountain trekking... and raising his sons.
He likes to relax in the sauna.